virtual-geology.info

---
Geology and Wine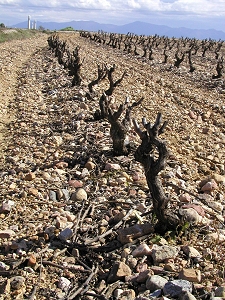 Côtes du Roussillon vines growing in poor soils on Pleistocene river gravels, France. Image: Roger Suthren
---

Whilst you're waiting for this web page to be completed, here are some refreshing links on geology, soils and wine, as well as some informative sites on wine in general:
---

Wines from volcanoes
---

Geological wines
This is just a small selection of wines and wineries with geological names.
---

U.S.A.
---

France
Beaujolais
Bordelais (Bordeaux region)
Bourgogne (Burgundy)
Languedoc-Roussillon
---

U.K.
---

South Africa
---
Further Reading
ANGLADE, P. 1990. Larousse Wines and Vineyards of France. Ebury Press, London. A comprehensive encyclopaedia of the grapes, wines and vineyards of France, including some information on geology and soils.

POMEROL, C. (ed.). 1989. The Wines and Winelands of France. Geological Journeys. Robertson McCarta, London. Guided itineraries to the main vineyard areas, linked to the Guides Géologiques Régionaux 'red guides' published by Masson.

WILSON, J.E. 1998. Terroir. The Role of Geology, Climate and Culture in the Making of French Wines. Well illustrated and interesting account of the influence of geology on winemaking, written by a petroleum geologist. Somewhat marred by frequent geological and geographical errors in the Languedoc chapter.
SUTHREN, R.J., FOWLER, M.B. & GUION, P.D. 2006. Terroir, wine and geoscience fieldwork education in Languedoc-Roussillon, southern France. In Macqueen, R.W. and Meinert, L.D. (eds.): Fine Wine and Terroir, The Geoscience Perspective. Geoscience Canada Reprint Series 9, 233-246.

---


This page is maintained by Roger Suthren. Last updated 9 October, 2020 10:35 AM